Riding your (e-)bike to work? These are the 7 best advantages
Despite the fact that biking is super accessible, we often tend to commute to work by car or public transport. Maybe the weather is a little poor, you are in a rush or just don't feel like biking today – we get it. But, cycling has more advantages than you may think. After reading this blog we bet you are going to ride your bike to the office more often. Let's go!
A fresh start of your day
Sometimes you don't wake up as fit and fresh as you hoped. Maybe you had a bad sleep, worked until late or had a few more drinks than planned during dinner. Don't worry, we have all been there. On those precise mornings, it is a really good idea to take your bike or e-bike to work. The combination of moving your body and fresh outdoor air has miraculous benefits. We promise your mood will be lifted after a ride on your bike.
Higher energy level
Want to be more productive at work? Finally completing that to-do list? Ride your bike more often! Moving and exercising boosts your energy level, which makes you feel less tired. The more energy you have, the more work you get done. A win-win situation!
Cycling is healthy
We all know that exercising has great benefits for your body and mind. But because of your busy schedules, we tend to move and work out less than we actually want to. Riding your bike to work is the ideal way to workout on a packed day, without losing too much time. Those minutes you would be stuck in a traffic jam are now used way better. Which brings us directly to our next point.
Ahead of the curve
Say bye to traffic jams! Queuing will become a thing of the past if you cycle to work. Especially in the city, traveling by bike is often way faster than going to work by car. This saves you a lot of time, which you can spend on a thousand other things that are way more fun.
No parking hassle
Besides saving you from traffic jams, your bike is also way easier to park than your car. On top of that, parking your bike will cost you nothing, nada, zilch! This cost savings can be spent on cool accessories for your Noord, for example.
Reduced CO2 emissions
Not only is cycling profitable for your health, it is also better for the environment. Did you know that you reduce CO2 emissions by 97% when you ride an e-bike instead of a car to work? And we did not even bring up those rising gas prices. Enough reasons to cycle to work more often, right?
Long distance commuting? Get an e-bike to travel further!
Even when your office is a couple of kilometers away, cycling is a perfect way to commute. You can easily cycle 20 kilometers within one hour with an e-bike. Whoever said commuting was not fun probably never owned a Noord e-bike.
Try riding the Noord to work
Are you convinced and ready to ride your bike to the office more often? Start your Noord trial and discover the advantages yourself! You can try the e-bike for one week without obligations. As an employer who makes the Noord available for employees, you only pay an addition of 7%!
Noord Amsterdam Light Festival tour
This winter the light festival is all about the celebration of light. In this tenth edition, 20 light artworks are exhibited in Amsterdam, of which 9 artworks were also shown in previous editions. The Noord team has cycled the route – how could it be any other way. In this blog we share our highlights.
The route is 6.5 km long and goes along Oosterdok, the Amstel, Plantage Muidergracht, Entrepotdok and ends again at Oosterdok. This makes a nice round in the center of Amsterdam on the e-bike. Range wise, riding on one of the electric bicycles from Noord you can easily achieve this. A fully charged battery can cover up to 150 kilometers.
We chose to start the route at the artwork called Ghost Ship (Oosterdokskade 135) also known as 'De Vliegende Hollander'. The seventeenth-century ghost ship is anchored in the waters of Amsterdam. When there is no wind, the ship rests unmoved on the surface of the water, but when the wind blows, it comes to life. If you are not that familiar with the streets of Amsterdam yet, this is a good starting point as it is close to Central Station.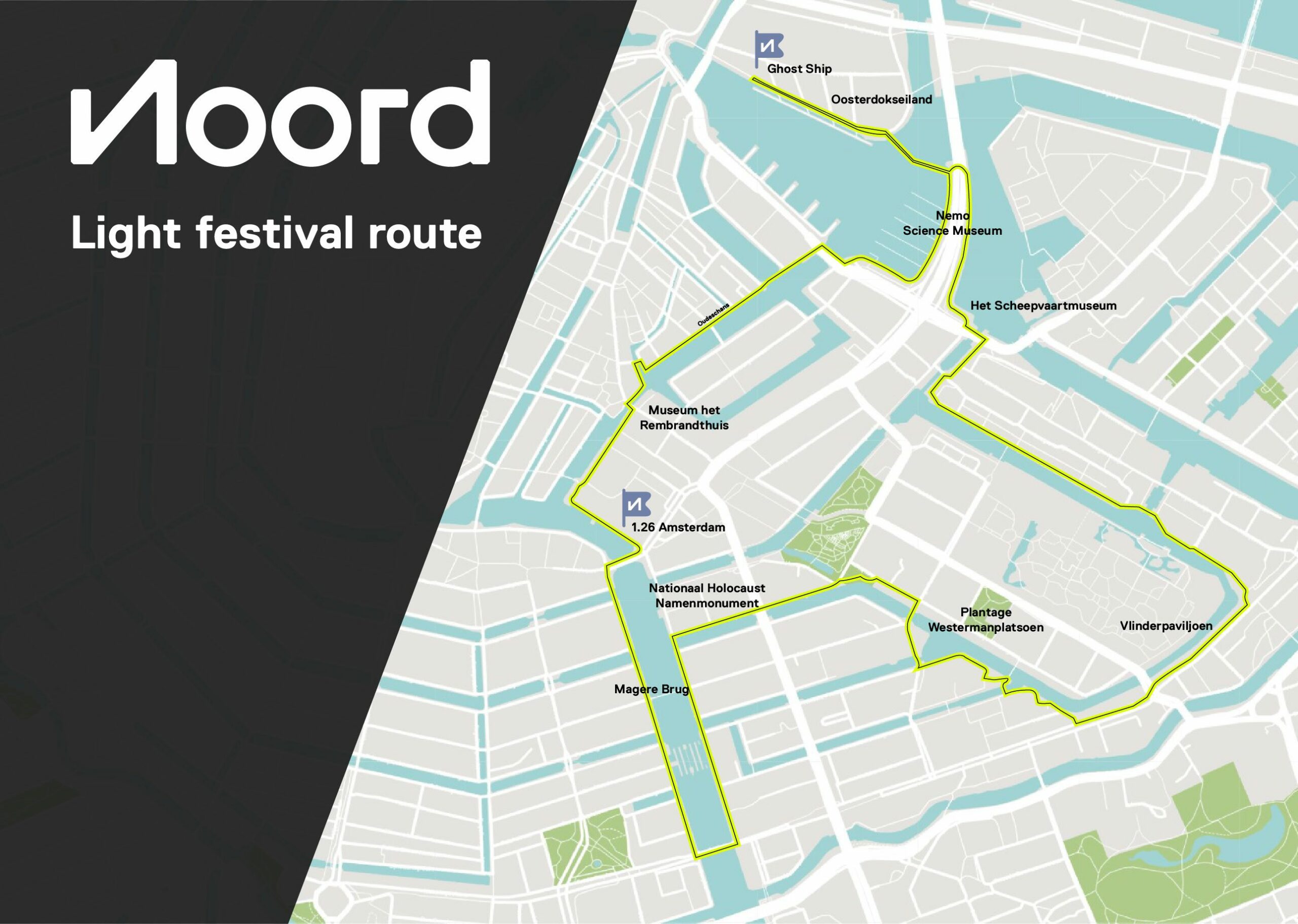 The artwork 1.26 by Janet Echelman can be seen on the route at the Opera House on Waterlooplein. The name 1.26 is a reference to the earthquake in Chile in February 2010 that caused the day to be shortened by 1.26 microseconds. The Amstel river created the opportunity for Echelman to integrate reflections of the light in the water.
Need a pick me up and a moment to warm your hands after the tour? Then pay a visit to Café Nassau in Amsterdam, you can enjoy a delicious mulled wine or a homemade burger to go. They are open from Thursday to Monday from 5 pm to 8 pm.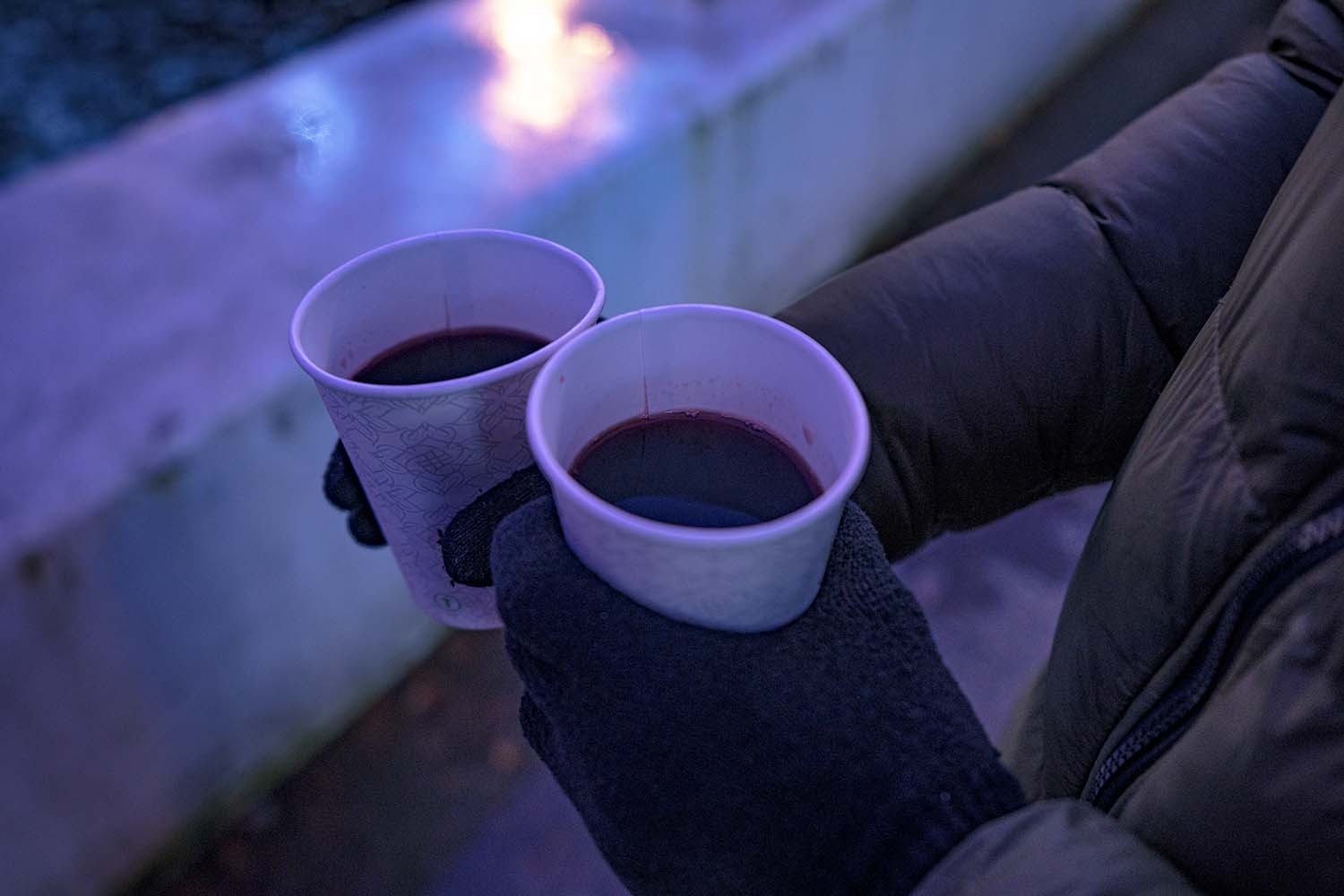 We have put a few of our highlights of the route on a map that you should absolutely not miss out on. The complete route can be found on the website of the Amsterdam Light Festival. The light artworks will remain in place until 11 p.m. on Sunday 23 January. Do you also want to cycle the route on an e-bike? Rent a Noord e-bike and buy a phone holder to display the route. In the dark, this is a challenge even for the most seasoned Amsterdammers. So no unnecessary luxury!
Noord e-bikes are extremely popular for commuting. But this electric bicycle is also your best friend in your spare time. That is why we highlight the best places and events in your city, ideal for cycling. This time: the Amsterdam Light Festival.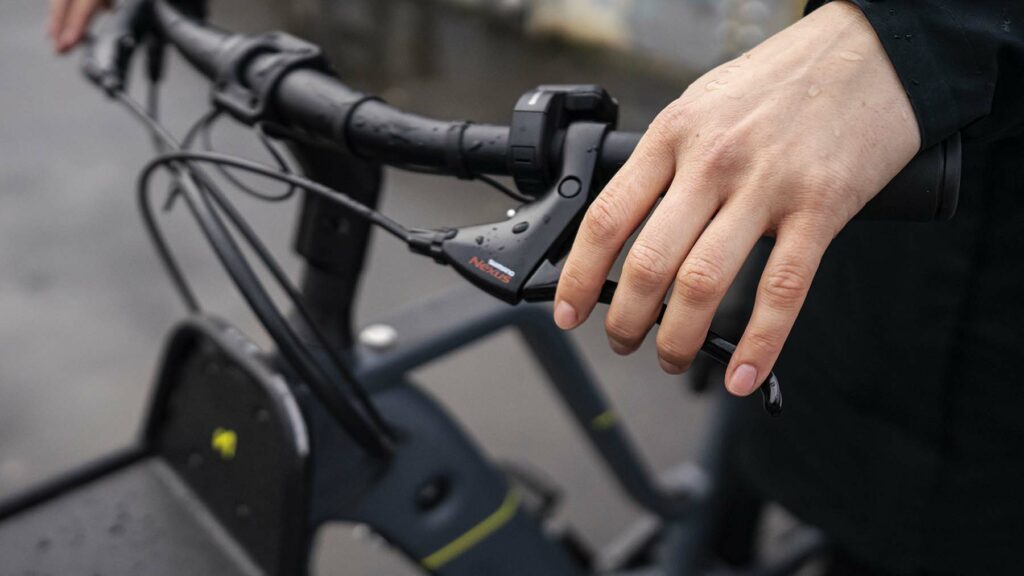 Top 3 tips on how to ride – and not slide – safely through the winter
You've probably noticed that colder days are on its way again. Fortunately, you already own the best e-bike to brave this weather. But to assure you the safest ride we have listed some tips & tricks for riding in the winter.
Tip 1: keep the brakes and gears in top condition
Normally our motto is: the faster the better, except when it's freezing. The brakes can freeze and the gears don't like the cold that much either. Check whether the hand brakes are working before you get on the e-bike. Do they seem frozen? Then you can thaw them by treating the brake cables with antifreeze spray or warm water. Better safe than sorry! In winter it's best to park your bike in a warm and dry place and have the parts lubricated regularly. No place to park your e-bike inside? Don't worry! Give your e-bike a few minutes to defrost and the gears will work as usual.
Tip 2: keep the battery warm
If the temperatures are below zero, the range of the battery can decrease. Why? The energy flows through the system less easily, so that the range is temporarily lower. No worries, this effect is only temporary. As soon as the temperature rises, your battery is completely back to normal again. It is wise though not to leave your e-bike in the cold with an empty battery. So give your battery some love and take it inside with you. This way, the range remains higher and charging is faster so that you are back on your Noord e-bike in no time!
Tip 3: SOS team Noord!
The perk of renting at Noord e-bikes is that you ride around carefree. If something breaks, we'll fix it for you. Any problem big or small, we've got you covered! If something is wrong with your electric bicycle, don't hesitate and make an appointment via your personal MyBike page and we will exchange your e-bike for a new one in no-time!